Let's face it, not everyone has a green thumb. I am included in this group of people. I grew up in SE Portland Oregon which. The smell of asphalt on a hot summer brings back memories of my childhood. We lived in a small apartment and there was no room for a garden of any kind. So many times we would head out to my grandma's house in Dilly Oregon. This town is so small that it literally has just a school and one highway running through it. My grandmother (as many of my readers know) lived in a 100+ year old house and grew a garden each year. This is where I learned to garden and harvest everything imaginable. Time flew by while playing out in her property, annoying the dogs, feeding the goats, eating wild blackberries, eating way too many tomatoes and watching my grandpa cut wood and stack it.
So as you can see I did get the best of both worlds. I lived in the city and played in the country. And today my kids get to do the same thing. We call this life our urban farm. We live in NW Portland now. I'm one street away from the urban growth line, two blocks away from the city of Hillsboro and one hour away from the coast. And let me just say that I am as happy as any person can be. I love my life.
I do understand not everyone is as lucky as I am. So today I want to help those who cannot have a garden but do have some space to put some plants. Those who have no planting space can put these plants into pots very easily. Enjoy!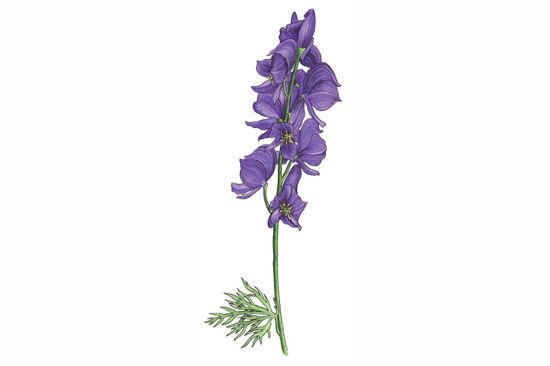 Monks Hood-Aconitum
This is part of the buttercup family. These come in blue, pink, white, yellow and purple. The roots of this plant is poisonouse and at one time were used for the tips of arrows to kill. This hardy and perennial would look lovely in any city garden. I wouldn't use this plant if have small children or pets. This plant grows 2-4ft tall so I would plant this in the back and smaller items in front of it. Blooms in late summer.
Bell Flower-Campanula
These plants look like they came straight out of a fairy tale garden. Would be perfect in any rock garden. These come in blue, white, purple and pink so will go with just about any color scheme you have. Most are perennial but some are not and only flower every two years but trust me they are worth the wait. They are about 6 inches tall but can spread to about 36 inches.These would be perfect to plant in the front and let taller pants grow behind them.
Bleeding Heart-Dicentra Spectabilis
These beautiful plants bloom a few times each year. They come in many colors but my personal favorite are the pink ones. They need moist soil and grow best in shady area's. Most grow 2-3 feet tall and about 2 feet wide. They die down in the winter and come back in the spring. Wild bleeding hearts and much smaller and have purple flowers on them. Best part is you can find them in any garden store.
Hens and chicks-Sempervivum Tectorum
These are the easiest plant on the earth to grow. Hen is the main part of the plant and chicks are its offspring. Colors range from lime green to burgundy and grow anywhere from 1cm to 20 cm across. Once 3-4 years old they will start flowering. After flowering the plant will die but the offspring will grow as normal starting the process all over again. These can be grown just about anywhere. I was lucky enough to get some from my grandmothers place. She grew them in a cement birdbath which today is in my front garden for all the world to see. Don't be afraid to grow these in creative places. Tree pits, old boots or just plain pots. These stay pretty all year long.
Hosta
These come in many varieties. They will grow anywhere from 4 inches tall to 3-4 feet tall. Make sure to read the tag carefully. They come in basic green leaves to green and white variegated leaves. They are beautiful most the year but in the Fall they die down and come back in the spring. Once a year they flower purple or white flowers which come through the center of the plant. I have found out the hard way that chickens love to eat these plants. Also hail can damage the leaves leaving small holes. Otherwise its a great plant!
Daffodils
There are anywhere from 40 to over 200 varieties so take your pick! Plant these in Spring, Summer or Fall and watch them bloom in the Spring. I know that when my daffodils bloom that means Spring is very close and the weather will clear soon. These can be cut and put in a vase with no problem at all. Once its done blooming you can simply cut the plant down to the surface of the soil and they will come back next spring. These also do just fine and animals don't eat them. They might dig them up but they don't like the taste of them. Chickens also will not eat them. They also multiply each year so if they are getting to much to handle simply dig up some bulbs and plant them somewhere else. This makes them very budget friendly.
Marigold
These are truly the cheapest plants ever. Buy one plant and you will never have to purchase more. They come in every shade of yellow, orange and red. They can be anywhere from 6 inches tall to 4ft tall depending on which variety you choose. Once the flower had died and the head has turned brown, you can easily pull the head off. Use those seeds for next year or toss them on the ground to grow more. They also keep some bugs/insects from your plants which is why produce gardeners love them. They can be grown in the ground or even in pots of any kind. Best part is they are the cheapest plant you can buy.
Poppy
I saved the best for last. Poppies come in many varieties of size, shape and color. I recommend picking your favorite poppy by size then color. These plants die off in the Fall and come back in the Spring. They also are my favorite to take pictures of. The flower head trying to emerge from the pod is like watching the birth of the plant. The colors are outstanding and so bright that its hard to get a good picture with the camera. The plants do not like to be cut and put into a vase so leave them be and enjoy the plant outside. These are what you call a show stopper. Everyone has to stop and take in their beauty. My personal favorite is the California poppy which is a bright and beautiful orange.
All these plants seeds can be found in any garden center. Even better they sell the starts! Right now is the perfect time to plant so head on over to your favorite garden center and get out in the dirt. Also remember you can plant flowers over bulbs and have a continuous garden giving you plenty of beautiful colors each day.